Raw and Rhythmic: The spirit of Bert Jansch in Johnny Marr
Upon the death of Bert Jansch in October 2011, Johnny Marr issued a statement which, as well as wishing to give his condolences to Bert's family, also contained these telling lines:
'Bert was an incredible musician, totally uncompromising as a person and as an artist. He lived only for the things he cared about and stayed true to his belief that artistry was more important than the mainstream.'
Johnny had become friends with Bert Jansch in the last decade of his life and he even invited Johnny to play extensively on his 2000 album 'Crimson Moon'. They also performed several shows together, including an appearance in the UK on the TV Show 'Later with Jools Holland'.
Despite being one of the most influential musicians of the last century, many people are completely unaware of the music of Bert Jansch and its impact. He has been described as being the equivalent to the acoustic guitar of what Jimi Hendrix was for the electric guitar. He also has proved just as influential, though many musicians whom have been influenced by him may not even be aware - more likely being influenced by those influenced by him, rather than by Bert directly.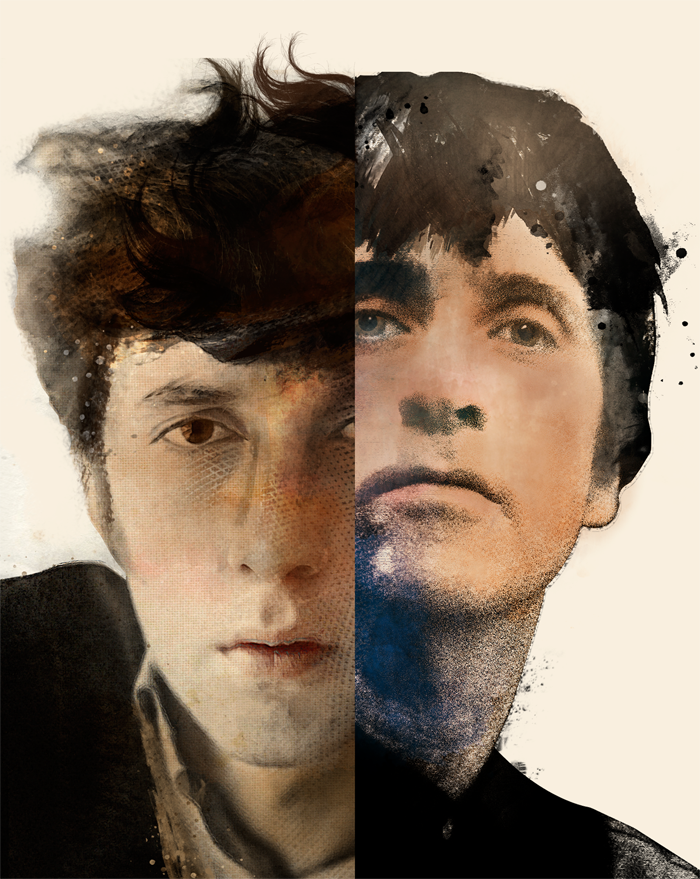 As a youngster Bert was hugely interested in American Guitarists such as folk players Pete Seeger and Woody Guthrie, as well as some of the country blues musicians such as Big Bill Broonzy, with his folk friendly style of the blues. Drunk on the possibilities of the guitar and an unquenchable thirst of experience led to his hitchhiking and busking around Europe for around two years before contracting dysentery whilst hanging out in the newly hip Morocco.
He then found himself drawn to London and its erupting folk scene in the early sixties. Upon his arrival in London, Bert quickly became the enfant terrible of the new folk scene, famously advertising himself in a London Record Store as having 'the best blues in town' - perhaps wisely without divulging which town. With a rugged authenticity and stony, ragged good looks, Bert may have been young and sure he may have lifted and appropriated from others on his sharp ascent, but Bert had managed to marry various musical styles and traditions effortlessly and became the player other musicians wanted to be. Musicians such as Donovan, Paul Simon and Jimmy Page would follow him around the clubs fanatically, Page later admitting: 'I was obsessed by Bert Jansch' and 'It was so far ahead of what everyone else was doing. No one in America could touch that'. This would become obvious later when Page was 'influenced' by Bert's 'Blackwaterside' to write 'Black Mountainside', to much greater commercial success. Bert and Paul Simon actually played a few shows together, prompting Bert to comment: 'I did get to know 'Sound of Silence' quite well'. Donovan was so inspired by Bert that he would later write not one but two songs in his honor, 'House of Jansch' and 'Bert's Blues'. When Dylan came to town, intent on taking in London's hip folk scene, it was Bert and folk record producer Bill Leader that showed him the sights and sounds of what at the time was the hippest underground musical scene in town. Later in 1967 he formed a Jazz-Folk band named 'Pentangle', forging a diverse mixture of folk, jazz, blues and rock influences to bear with John Renbourne, whom he shared a flat and had previously released an album (Bert & John) with. They would go on in the next few years to develop into a successful act as well as playing at the Isle of Wight festival.
To Johnny Marr years later, he was just as revelatory: "I was 14 when I first heard Bert Jansch. A friend of mine told me he'd discovered a 'folk group' that were really good and that I should check out the guitar playing. At the time I was listening to a lot of rock music and old pop stuff and, even though I would give myself credit for having an open mind, I thought he was nuts. I don't know what I was expecting, but when the opening bars of 'Train Song' flew by I knew I was hearing something that was to change my life as a guitar player. I was stunned by his technique: melodic riffs, chord progressions that were almost jazzy, and the funkiest blues feel ever played on an acoustic. This wasn't 'folk', this was something all his own – this was innovation. It was one of those moments when you know the stakes are raised, do you just accept your limitations or would I even dare to try to be that good?' He was uncompromising, and that was particularly appealing. You knew it wasn't a pose. He wasn't trying to be liked, he was very cool, and his playing backed it up."
Folk music's image has suffered over the years with a perception that it is 'soft' or 'too serious' to be fun, but Bert's folk music is muscular, rough hune and dangerous. He often approaches the guitar as much as though he is attacking it as dexterously coaxing the perfect melody. Bert was not the kind of turtleneck sweater-wearing folk musician whom would go on to influence comical characters Mulligan & O'Hare or earlier Foster & Allen. Rather than being tame or insular he was vital, he was a rebel, a '26 pints a night man'. As Johnny Marr remarked: 'Bert was a lot more than an earnest folky with an acoustic guitar'. Friend, collaborator and Pentangle band mate John Renbourne said, 'He was kind of a wild guy, He was loose, I tell you that. A lot of people liked him because he was crazy and unreliable. A lot of people just thought he was great'.
'Bert was an incredible musician, totally uncompromising as a person and as an artist.'

- Johnny Marr
Johnny said in 2004, 'When people unfamiliar with Bert ask me for a quick education, I say, without Bert Jansch The Beatles wouldn't have written 'Dear Prudence'. Why? Because Donovan found himself accompanying The Beatles to Rishikesh to see the Maharishi. And showed John Lennon, in particular, the descending clawhammer D technique. It's known to most guitarists from Neil Young's 'Needle And The Damage Done', which is a lift from Bert's 'Needles Of Death' anyway. That technique is something guitarists now take for granted – tune to low D, play descending lines from the first position from D to C to Bb. We don't think about it, but it's got to have come from somewhere. And in Britain, it came from Bert. Hence 'Dear Prudence'. Bert may have appropriated it from Davey Graham, but Bert was the star.'
Put short, Bert Jansch was a rock star of sorts without needing to 'go electric'. The sounds he made on the guitar were hard edged and played with a sort of rough finesse. Or as Johnny put it: 'The best of Bert's music makes a lot of rock music look like pansy-ass posing'.
It is arguable that few musicians have had such a meagre sense of celebrity and to whom critical acclaim meant almost nothing. Did he really fall asleep in the middle of Pentangle Top of the Pops performance of Light Flight? Bert explained: "With the exception of Jacqui, we were all miming, [so] I had nothing to do." Johnny when recently interviewed has said, 'Bert was one of my few real heroes. He was an amazing person and because we were friends I got to find out that the lifestyle choice of the folkies in Soho in the 60s was a very deliberate and radical. They made certain choices and the fact their music was not in the charts was no accident. In Bert's case, he was the king of the UK beats as a result of the beat poet influence on his generation. Also, he was tuned into the political climate of the time and things like the CND movement and the radical student scene'. 'A lot of people who don't know Bert's music think he's all about technique. And while he can be dazzling in that regard, he has a healthy disregard for the academic side of playing. He's a million miles away from those boring GIT dudes. He know it's ultimately about a getting a feeling across.'
Bert's style was to his own admission, 'Raw and Rhythmic'.
Johnny Marr also said, 'I remember asking Bert, 'When you were doing it, did you know that you were like ...heavy? Heavier than all those bands that were heavy? He nodded this thoroughly appropriate nod and passed me a biscuit – as if to say, 'Yes, and I'm too heavy to even talk about it!'
Bert was fascinated by the guitar the moment a music teacher brought one to class 'for everyone to have a look', at that moment deciding he was to play guitar. He couldn't afford one so he began to attempt to make them himself with 'sheets of hardboard'. Many years later recalling this he remarked, 'When I was twelve or something, really for real, I honestly managed to get one that was reasonably playable'.It's hard not to see clear correlations between Johnny Marr and Bert Jansch's prodigious ability with the guitar and their lifelong obsessions with the instrument being far beyond what most musicians could claim. It is tempting to suggest that in Bert, Johnny had found a kindred spirit. English Folk musician Martin Carthy recalled of Bert, 'People talked about Bert as being a bloke who'd only been playing a few months and had already learned everything his teachers could throw at him.' The Scottish folk singer Archie Fisher said it took him two lessons to teach Bert everything he knew. 'It would have taken one, but on the first lesson they went out and got drunk'.
Johnny's most recent music video for 'Candidate' made a visual nod to Bert Jansch with his second album 'It don't Bother Me' being clearly visible. This, Johnny has recently divulged, is maybe his favourite Bert Jansch album.
'I particularly like his second record. The album before it [1965's Bert Jansch] is more revered and held up by most journalists as being the seminal one, but I think the songs are better on It Don't Bother Me, particularly the title track. The fact that they were both recorded in a kitchen at his mate's house is another reason why it has never dated.'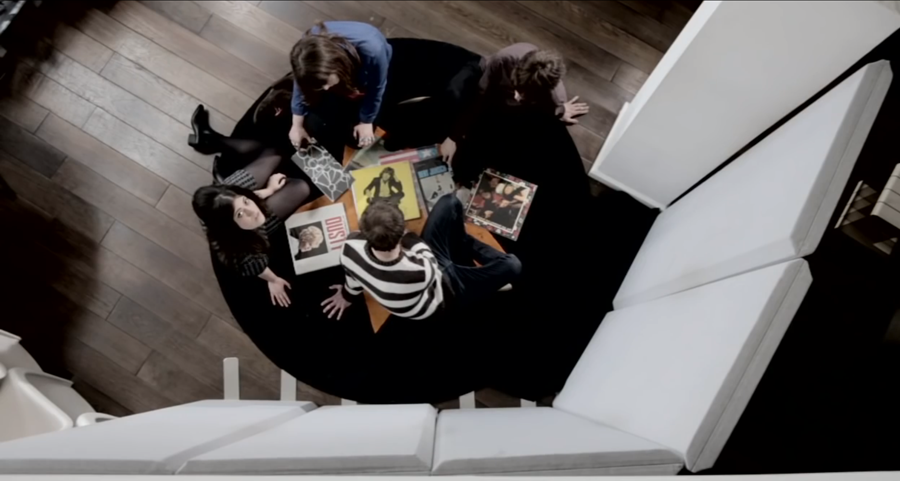 Bert Jansch's 'It Don't Bother Me' LP shown in Johnny's video for 'Candidate'.
The trite label of musician's musician in Bert's case is true, but that shouldn't make you think that his influence is only technical. His songwriting is also hugely meaningful and if you have not already, I would suggest investigating his gem-filled back catalogue. But in the end, this passage from Johnny defines the influence Bert has had on him best: 'He was the only person that I ever really tried to work out stuff as a guitar player, fairly unsuccessfully. And it's true that, if you actually sit in front of him and watch what he's doing, it's harder. It's better to just try to work it out by ear, because you'd need like a mirror, and you'd have to stand on your head to work out how he's doing it.'
Does that remind you of anyone? Now you know how we feel, Johnny...