Johnny Marr: Intellectual one with a Conceptual gun
Without question, Johnny Marr's resume is a topic that one could analyze over endless hours and countless pages. However, the undeniable temptation to discuss Marr's musical accomplishments has, at times, overshadowed his cerebral nature and eye for detail. His interests are as expansive as his musical talent, as evidenced by his passion for philosophy, art, architecture and design, psychogeography, spirituality, politics, and fashion. Marr appears equally confident and knowledgeable in discussing the intricacies of a guitar riff as he does modern art and design, and a plethora of philosophical theories.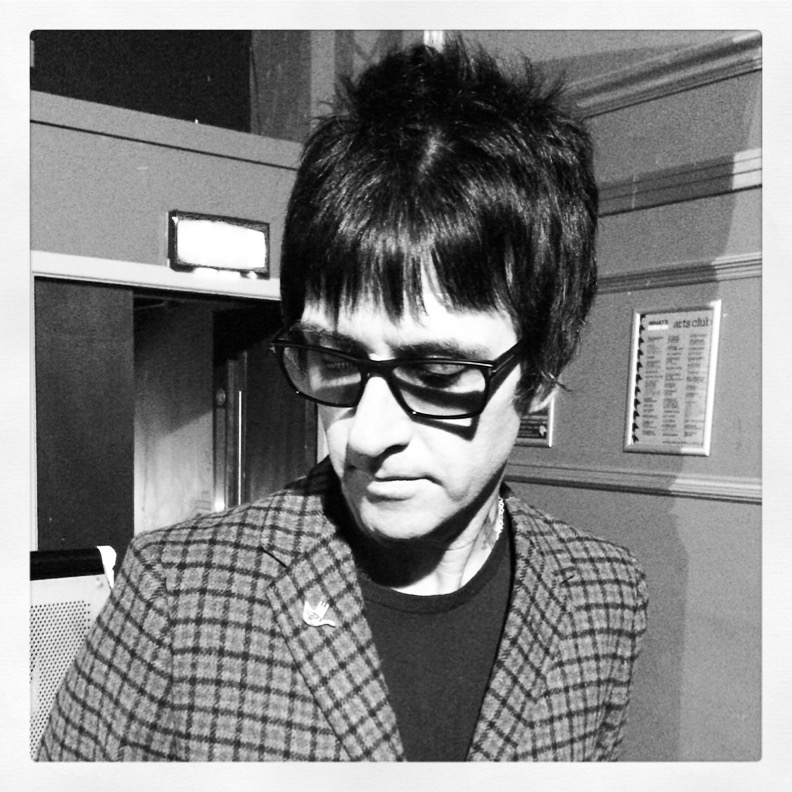 Intellectualism and the body politic
Marr has always charged against the clichés and stereotypes of the quintessential rock-n-roll "laddism" that espouses macho-ism, superficiality, and personal and artistic stagnation. During his days as a footballer in his teens, he took to the pitch in eyeliner and nail varnish, a la The New York Dolls, which he admitted invited confusion, fear, and, at times, physical aggression from the opposing teams. Marr further challenged the exaggerated gender roles of the 1980s musical scene and has openly explored gender politics and feminism, personally and professionally. His distain of preconceived notions is evident in his assertion,
"I wasn't going to go along with this idea that the British man, particularly from the north, was all right with low- level sexism and loutishness and the celebration of low intellect."
Consciously or unconsciously, some have continued in their attempts paint Marr into a box, resulting in polite but forceful pushback.
Intellectual one with a conceptual gun
In 2014, Marr was appointed a patron of the Manchester Modernist Society, an organization that celebrates the art and design of England's Northwest. He has cited some of his favourite Modernist buildings as the Midland Hotel in Morecambe and north Manchester's Hexagon Tower in Blackley. Marr's love of Brutalist architecture was borne out of the utopian ideals and progressive intentions of the forward- moving Brutalist design philosophy. In his video for 'New Town Velocity', he is featured against a black-and-white backdrop, briskly walking among the Wythenshawe council estate homes of his childhood as well as several Brutalist-inspired buildings in Greater Manchester. Captivatingly, Playland track 'Dynamo' evokes the romanticism and beauty of a love affair, albeit about a building in which Marr gently yet emphatically implores, "You're a living thing, some kind of fantasy / Secrets appear and touch minds, you are invited."
Art explored through philosophy and architecture
The songs 'Dynamo' and New Town Velocity' are both evocative of Marr's interest and study of the concept of Psychogeography, defined as the interpretation of our physical environment in poetic relationship with our feelings and behavior. Psychogeograpy emphasizes play, exploration, and drifting within the urban landscape while informing a new awareness and increased curiosity of how the structures surrounding us affect us on conscious, and perhaps unconscious, levels. Interestingly, Playland is inspired by the book Homo Ludens, written by Dutch historian and cultural theorist Johan Huizinga. Homo Ludens is an anthropological and cultural evaluation of humans' need for play, including play through the expression of art and poetry.
Huizinga hypothesizes that "Music is one of the most primal exchanges left in human civilization. All ritual still involves it in some way because music is an immediate connection to our emotions." Marr's music so eloquently captures this relationship of art, music, sensations, beauty, exploration, and play.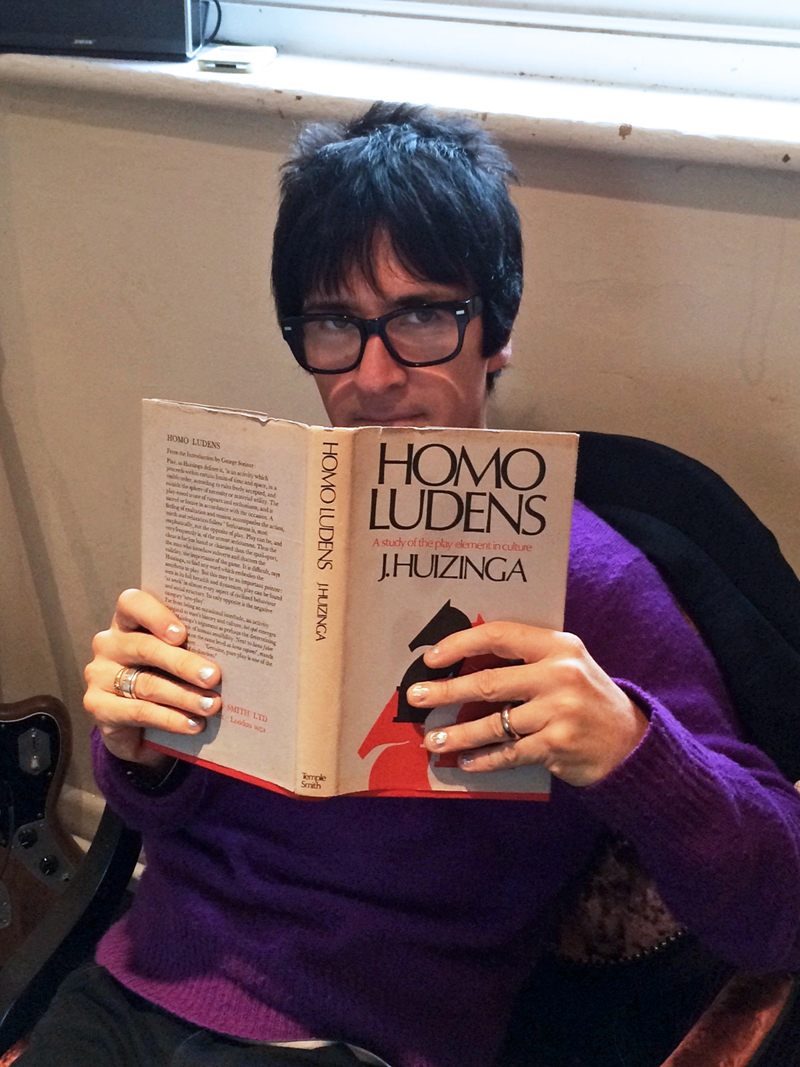 Artistic expression: Visual art
Marr's fascination with the aesthetic is apparent in his interest in the visual arts. Marr has often cited David Hockney as the living person he admires most, noting, "to see somebody still so inspired, getting out into the bleak northern landscapes at 5:30 in the morning, and absolutely making some really great work, that was really, totally inspiring. He has also cited the drawings of Lucian Freud and Damien Hirst as favorites as well as the American photographer, William Eggleston. Certainly, Marr's collaboration with Manchester's Whitworth Gallery and his patronage of the Manchester Modernist Society is indicative of his passion for art in its various forms. Arguably, his investment in the visual arts is indicative of how art and life are very meaningfully and deeply intertwined. His voice also lends a hand to legitimize visual art as accessible to all.
Personal evolution and the work of Aldous Huxley
Marr's passion for artistic expression appears to have blossomed as a result of his insatiable intellect, motivation, and propulsion to move forward. He appears to balance this drive for movement and fluidity with a seeming confidence and understanding of stability and self-knowledge of his values and beliefs. He cites the work of Aldous Huxley as an important influence. Marr noted,
"I think you have to have a strong sense of remembering why you're doing what you do...I don't know if it's of any interest to anyone, but when I discovered what Huxley was about, and that he was known for having a certain stance and having achieved so much up until the middle of his life, and then he did an about-turn and did greater things in the second half, I naturally found someone I could relate to. Because for a long time I was defined by what I did when I was younger."
In another reference to Huxley, he presciently noted that the great writer
"wasn't afraid to bloom into the person he was always meant to be - flying in the face of what everyone wanted him to stay as."
It is sometimes difficult to imagine that Marr has evolved as an artist, despite the beauty, intricacy, and perfection intertwined within the riffs he created during The Smiths. Marr once said of Huxley, "I like that he was an intellectual with a heart." Perhaps, Huxley's intellectual and developmental journey and is also an apt description of the evolution of Johnny Marr himself.
Johnny Marr: Renaissance Man
Playland track 'This Tension' contains perhaps the most eloquent description of Johnny Marr himself: "I'm a conceptual one, with an intellectual gun." Marr's appointment as visiting professor at the University of Salford in 2007, followed by an honorary Doctorate of Arts in 2012, affirms his investment in the music as both an integral art form and intellectual pursuit. His status as patron of the Manchester Modernist Society has brought additional attention to its mission, and recently he celebrated the Museum of the Year Award bestowed on the Whitworth Gallery, of which he is a patron. In 2013, NME awarded Marr their God-Like Genius Award for his musical innovation, impact on the musical landscape, and ongoing contribution to musical scholarship. Currently, he is penning his autobiography, sans ghostwriter, while also maintaining a busy tour schedule. Perhaps, his next award might highlight his intellectual curiosity and status as artist. In other words: Johnny Marr embodies the quintessential Renaissance man.