Marrchitecture
n. The style in which Johnny Marr is designed and constructed.
Stood fixed to the floor, with his guitar raised above his head, one loud single note reverberates around the space. It is not just the sound that captivates Johnny Marr's audience, but the image that he presents.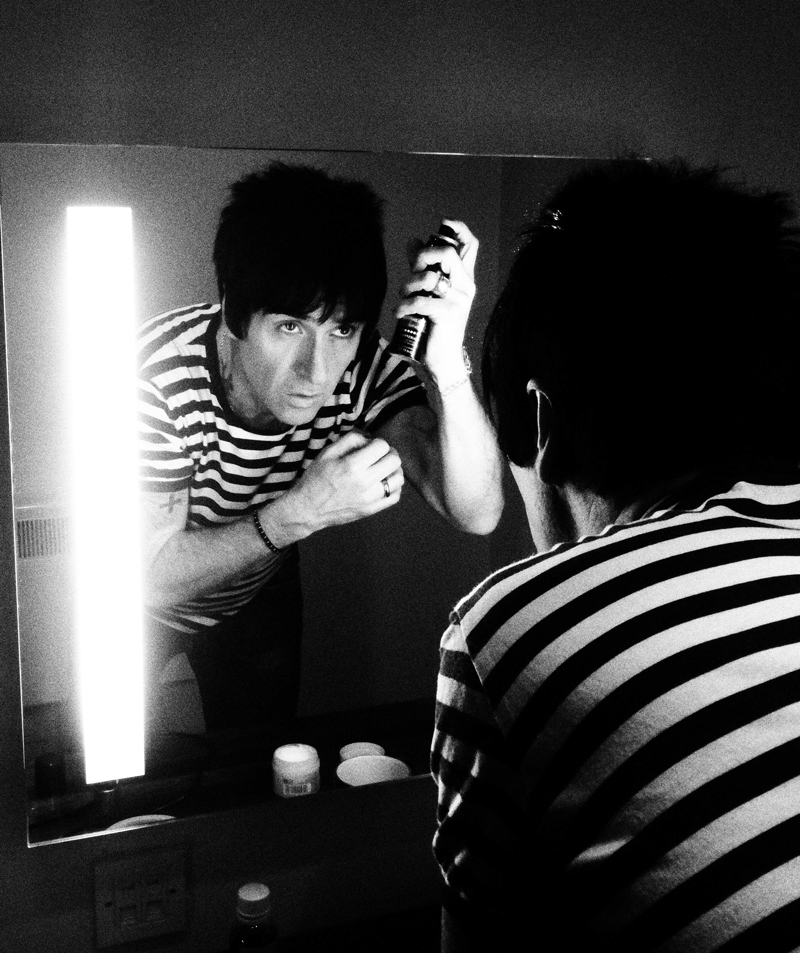 The Right Fit Right
Style is very important when you're a famous musician and luckily for Johnny, working in Manchester clothes outlets as a teenager helped inspire him to keep that effortless chic ever since. During his time in The Smiths, Johnny took inspiration from Perry girls mods by wearing his yellow turtleneck sweater with another one swinging round at his hips.
Jump forward 30 years, Johnny is looking sharper (but not too sensible either) in smart buttoned-up shirts and tailored thrift store jackets that still allow for plenty of activity on stage.
"I like my stuff to look punky, but proper punky. So it's all from the Sixties and Seventies"
, he told
Esquire
magazine earlier this year. This attitude not only fits his musical style, but also compliments his strikingly youthful appearance, achieved by a vegan and teetotal lifestyle.
My Scene, Walk On
Johnny is always busy weaving his fingers over guitar frets...but that doesn't mean he never considers what he wears on his feet as well. Johnny's choice in footwear is usually whatever is most comfortable and complimentary to his trousers on stage, and fortunately, his treasured Clarks Weavers and Wallabees shoes don't distract too much from his slim, drainpipe-clad legs. However, he has admitted that wearing them has its consequences when caught in bad weather: "I used to buy slippers from Clarks and when it rained I'd be falling all over the place, he told Esquire magazine. Still, since the Clarks brothers opened their Somerset business, 1825, they have grown very successful, even with a certain David Bowie in the 1970s. More recently, Johnny has taken to sporting his Lacoste Dots on stage for comfort and practicality.
Vision in Sunglasses
Shades are any rock star's essential cool accessory, and Johnny is no exception. In the 1980s he could pull off any pair of round mirrored sunglasses or Ray Ban Wayfarers whilst simultaneously pulling off the most amazing guitar riffs.
Like the legendary musician, Ray Ban sunglasses have a fixed place in popular culture, and Johnny agrees on their importance in the music industry: "Entertainers who have style as part of their persona need to give a vibe that they have their eyes open all the time", he told Telegraph in 2011. In the same year, he designed his own Johnny Marr Signet sunglasses for the brand, with blue tinted lenses and his signature inscribed on the arms. To align with this release, he worked with upcoming American bands including Mona and Best Coast for the 'Raw Sounds' live events in London, New York and Hong Kong.
Fast Badge Philosophy
If you look closely at Johnny's jacket lapels, you will find they are usually adorned with several badges, each an open door into his interests.
| | |
| --- | --- |
| | Aldous Huxley, the influential author of Brave New World, The Perennial Philosophy and many others, is one figure Johnny admires, particularly for his later intellectual essays and lectures. |
| | The Manchester Modernist Society, who Johnny is now a patron of, describe themselves as "urban enthusiasts" who are passionate about the city and modern 20th century architecture. He used to wear their square shaped red enamel badge, but has since swapped it in favour of their new beautiful blue design. You can become a member of the society and subscribe to their magazine, The Modernist, at manchestermodernistsociety.org |
| | The BRUTALIST badge is another Manchester Modernist Society enamel design, designed for enthusiasts of Brutalist architecture. Its bold capital letters give a sophisticated edge, while maintaining a cool intellect. |
| | Similar to the BRUTALIST badge are Johnny's new PLAYLAND and BREAKOUT badges, worn in support of his Playland album. See how they aesthetically align, all sharing a rectangular shape, large stand out letters and a shiny enamel finish. |
| | Word Starts Attack is the final track on Johnny's first solo album, The Messenger. This badge is one of several designs in the Generate! badge set in the official online Johnny Marr merchandise store. |
| | The English art punk group Wire is one of Johnny's favourite bands. This particular badge is based on the sleeve art for their 1978 I Am The Fly single. |
| | How to Draw a Bunny is the title of a British documentary film about the life and work of artist Ray Johnson. Interviews with several artists, including Chuck Close and James Rosenquist, give a powerful insight into his work and the mystery of his death. |
| | The Tibetan Flag, worn in support of a free Tibet. Johnny has often spoken of his admiration for His Holiness the Dalai Lama XIV. |
| | The golden 'J' brooch represents the first letter of his name, of course! So simple, but wonderfully quirky too. |
| | As seen in the Easy Money video, Johnny's bagua badge is a reference to Taoist cosmology. The bagua is used in the practice of feng shui as well as the I Ching. |
| | The golden swallow brooch, given as a gift from a friend. Derived from the history of sailors, a swallow symbolises protection and safe travels. They are also known to return to the same location every year. Fittingly, Johnny has a tattoo of a swallow on the lower left side of his neck. |
| | It's unclear what this infinity-like symbol means - a design chosen purely for its aesthetic appeal? The symbol of an ancient secret society? Only Johnny knows... |
Other badges Johnny has been known to wear from time to time include a Spider-Man enamel pin, button badges of Bert Jansch, Blondie, Marc Bolan and Aldous Huxley quotes, and a small brooch of Picasso's dove.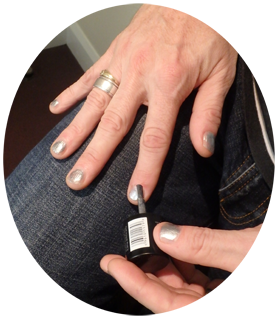 Paint It Silver!
Metallic silver, and as shiny as his guitar riffs, Johnny's painted nails have recently become noticed by fans and the press alike. Talking to DJ Shaun Keaveny at a BBC 6 Maida Vale session this October, he revealed that singer Kate Nash used to paint them for a joke, but it has become a bit of a thing ever since. There might be a few disapproving people who frown at men with painted nails, but that won't stop Johnny reaching for the 'Barry M'.
Mod- ernist
Having a stand-out hairstyle is vital in the music business, but as with David Bowie, Siouxsie Sioux and Keith Richards, it has to be true to your image. Johnny told Guitar World in 2012, "I maintain it's my absolute prerogative to wear whatever hairstyle goes with my guitar at any point in my life". On stage he's a Mancunian mod messiah, with the lights on his radiant crest of raven black hair ruffled into a crown (If you really want to know, baby ravens deliver a special dew to him to keep it so shiny, if you believe his Twitter account!). His perfectly trimmed fringe that plays parallel to his eye line speaks volumes about his smart but cheeky personality. Johnny is privileged that people continue to appreciate his choice of haircut, and now at the age of 51, he has successfully made a name for himself by maintaining his own individual indie chic.